Best Online Courses for Blockchain – [Fastest Way to Work in Crypto]
Well, the Cryptocurrency and blockchain technology has gained immense popularity in the recent years and the main reason is that one of its mainstream use cases (i.e. Bitcoin) has taken the world by storm. So, in this article, we will explore the best online courses for blockchain.
See, people are now well aware of its potential and massive utility. As a result of this trend, several people (who know about the tech very well) have started offering their tutorials and lectures for ordinary internet users as well as the tech geeks.
Quick Overview:
Available on IVAN ON TECH ACADEMY
More than 15K students
Ideal for everyone from beginners to more advanced.
Time: 10 and 42 hours, respectively
Price: $14/mo
Basically, these are two different courses and we have included them in the list because they offer the best information from the theoretical and development perspective while considering you a newbie. Therefore, even if you do not know a thing about blockchain, the Blockchain 101 course can give you the required conceptual knowledge.
However, if you do know the basics and you want to start learning development, then New Blockchain Developer happens to be one of the best online courses.
Following is a breakdown of learning objectives for Blockchain 101 and New Blockchain Developer, respectively:
What a Blockchain is
How Blockchain works
How Bitcoin works
How Mining works
How consensus algorithms work
How Ethereum Works
What a Smart Contract is
What a Token is
What a Dapp is
How the EVM runs
C++ Programming
Javascript Programming
Basic Web Development
Ethereum Smart Contracts
Ethereum Dapps
Metamask Setup
Smart Contract Deployment
EOS Smart Contracts
Quick Overview:
Available on Udemy
Time: 2.5 hours
Ideal for beginners
Costs about $95 without discount
So, this is yet another good course for beginners. It happens to be a pretty decent bet if you do not know ANYTHING about the blockchain technology.
Firstly, as the name suggests, it covers blockchain as well as bitcoin, so you enjoy a significant pro of learning the main technology and one of its robust use cases as well. Please be advised that it's taught on Udemy and even though all of their courses are self-paced, the content is not more than 2.5 hours of dedicated effort. Some of you might think that it's very short in length, but it is worth emphasizing that the primary objective of this course is to lace the beginners with fundamental knowledge regarding blockchain and bitcoin. So, I personally think the duration is great from that perspective!
Secondly, if you are curious about what's 'actually' taught in these 2.5 hours, you should expect some basic concepts and definitions regarding bitcoin, blockchain, tokens, smart contracts, and business applications.
Moreover, since BTC has been around for quite some time now, the tutor has also dedicated some time to ensure that the newbies do not only write the definitions of Bitcoin (see whether BTC is good for the society or not), but they actually get started with cryptocurrency as well (the development aspect).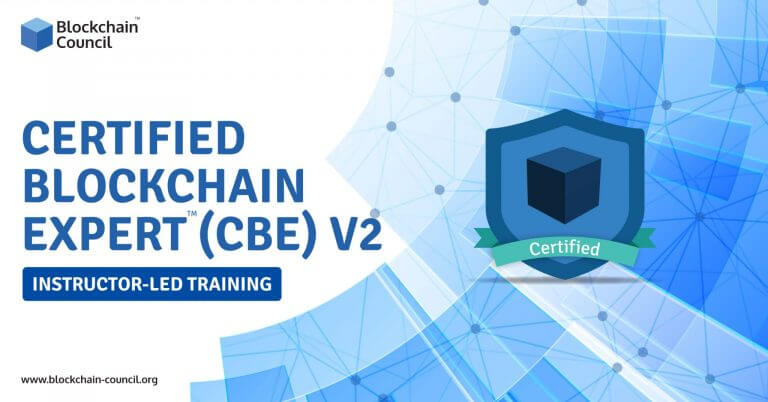 Quick Overview:
Available at Blockchain Council
Costs $129
Nature: Self-paced
Lifetime access
Duration: 6 hours (yes, it is a short yet in-detail course)
An online exam is required to earn the certification
24/7 support by the expert team
Hands-on projects as well
Well, this course is mainly aimed at beginners who are just entering the blockchain industry and are willing to take a course from an organization that is quite well recognized in the niche. However, please note that you will only earn a certificate if you go through an exam at the end.
So, as the name suggests, the aim of this course is to make you an expert on blockchain, but please note the main content is geared towards theoretical and conceptual aspects only. Therefore, if you are expecting a 'great deal of programming help', that's not the case here.
Moreover, one of the best pros of this certification is that you can register as a newbie, then it will take you through the intermediate stage as well and by the time you graduate, you will be able to call yourself an expert.
Quick Overview:
Available on Udemy
Thousands of students
Ideal for beginner to intermediate level
Costs roughly $200 without discount
Undoubtedly, it stands among one of the best online courses for blockchain. Just to clue you in, it has more than 30K members from across the Globe and happens to be one of Udemy's best sellers.
However, before you jump into it, please have a look at the name again and understand that there is going to be a lot of programming in this course. So, once you are done with it, you will be able to code your very own cryptocurrency in Python. Probably the best perk is that two of the renowned names in the industry, Hadelin de Ponteves, and Kirill Eremenko are there to engage you directly and impart their knowledge from the fields of AI and Data Science, respectively.
I highly recommend you to take this course if you have an entrepreneurial or adventurous mind. However, it is also advised that you have basic Python programming knowledge before paying for the course, just so you do not waste any time and understand what's really happening.
Quick Overview:
Available on Coursera
Ideal for basic to intermediate level
Developed by the State University of New York and the University of Buffalo
Time: 16 weeks
Candidates can earn a certificate as well
Free enrollment
Well, for many people, the mere guarantee that it is being offered by the State University of New York is enough. However, if we purely talk about the content, then it happens to be one of the best online courses for blockchain.
Firstly, their aim is to lace you up with the required theoretical knowledge and development skills for programming on the Ethereum blockchain. Furthermore, considering the diversity of the content, this course offers everything from decentralized applications to cryptographic underpinnings.
Can I Take This Course As a Newbie?
I highly encourage you to build intermediary-level knowledge regarding the blockchain technology and have some idea about programming before registering for the course as they also focus on the design and implementation of smart contracts and teach you how to work on an array of relevant frameworks.
Moreover, just to give you a heads up, the State University of New York is not the only stakeholder involved in the delivery of this course, as the University of Buffalo has also played a vital role in its success.
Above all, what's best about this course is that you can earn a certificate as well after passing all the assignments (marked by the tutors). Therefore, it does not only give you the required technical knowledge for finding your way into the blockchain niche, but you can also display your certificates online so the potential employers would know you possess the required skills from a reputable organization.
Quick Overview:
Ideal for intermediate to advanced level
Time: 6 weeks
Taught by MIT faculty
Price: $3500
So, it happens to be one of the most expensive courses in the niche, but people are happy to pay for it because of the two reasons:
MIT's qualifications always have a high Return on Investment
The content quality is exceptional
Well, the dynamics of this course are quite different as (most of the time) organizations buy this course and then ask their employees to learn the technology in order to move their entire infrastructure to the blockchain.
You must have understood by now that the core focus of the MIT Blockchain Technologies course is to impart a deeper understanding of the DLT, particularly in an economic environment.
However, if you have the funds and you can take this course independently, I would suggest you go for it as it would allow you to learn an entirely new dimension from a pure entrepreneurial perspective. Therefore, you would not only be able to develop at a higher level but offer a decent quality of consultancy to some big organizations as well.
So, if we talk about the content, please note that it is carefully designed to gear you up for becoming a blockchain specialist in just about six weeks. But, if you have a busy schedule, you can have your own pace as well, no worries about that. Moreover, the tutor is also pretty good and reputable in the industry – Professor Christian Catalini, a crypto expert and MIT's faculty member.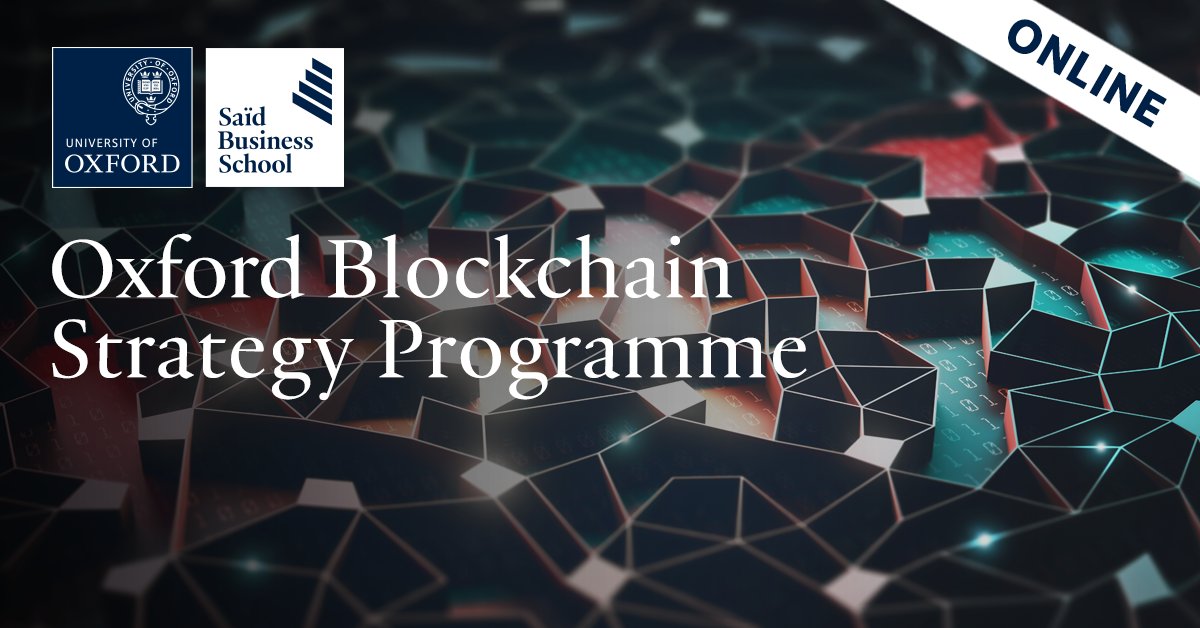 Quick Overview:
Available on GetSmarter
Ideal for intermediate to advanced level
Costs about £2,350
Time: 6 weeks
Well, if you are interested to dive in the 'real tech' of blockchain and explore it extensively, then it happens to be one of the best online courses for blockchain. Moreover, it has another great perk as well – the teaching is conducted in a purely academic environment, so you would get a feeling of a classroom.
Secondly, it is worth noticing that the duration is set at 6 six weeks from the day of registration, which is a pretty decent time. It should also be mentioned that the course is developed by Saïd Business School in collaboration with GetSmarter, an online education provider. Moreover, due to its high-quality content, this Blockchain Strategy Programme is in direct competition with MIT's course mentioned above, however, it is a bit cheaper.
Even if we do not watch the videos and just look at the course outline below, it becomes pretty evident that they have categorized all major aspects and are taking everything very systematically so you may understand better.
Course outline:
Understanding blockchain
Blockchain and business
Transfer of value and storage of value
Decentralized apps and smart contracts
Transformative business models
Blockchain frontiers: identify future trends in the industry
Lastly, just to give you a heads up, the tutors recommend studying at least 14 hours per week to pass this course and understand the tech in depth.
Quick Overview:
Available on edX
Price: $200
Time: Self-paced; but usually takes 2-3 months
Ideal for basic to intermediate level
Contains skill building lessons as well
Berkeley has enjoyed a decent name in the education sector and now they have also started rolling out different courses on hot technologies. Before we proceed, please note that this certification covers both, technical and non-technical aspects of blockchain technology.
Moreover, apart from exploring the traditional jargons, you will also understand the core architecture, DLT and how it allows different blockchain networks to reach an 'extreme' and 'unparalleled' level of security.
Just to clue you in, this course costs $200 and is absolutely self-placed. However, the tutors do suggest a time period of 2-4 months so you can develop a really good sense of the technology and grasp the content as well. In the end, you will also be able to create your custom models and use cases revolving around blockchain.
Furthermore, it should also be noted that this course is mainly geared towards preparing you for creating an enterprise-level blockchain solution. Therefore, a major chunk of content also talks about the scalability problems faced by Bitcoin and other networks, before discussing the solutions and alternate robust approaches.
Conclusion
This review has explored a variety of best online courses for blockchain. Please note that all of these have own pros and cons and we urge you to go for a course only if it is related to your current professional level, just so you understand better and get the most out of the content.